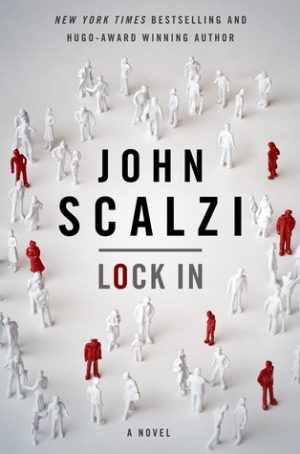 Lock In
By:
John Scalzi
Website:
http://whatever.scalzi.com/
Release Date:
August 26, 2014
Publisher:
Tor Books
Series:
Lock In #1
Award:
Locus Award Nominee for Best Science Fiction Novel (2015); John W. Campbell Memorial Award Nominee for Best Novel (2015); ALA Alex Award (2015); Goodreads Choice Award Nominee for Science Fiction (2014)
Rating:
There is nothing better than a stay up till three am binge read. Lock In by John Scalzi was exactly that book. I picked it up late one evening and then read the entire thing. Because who needs sleep, really? This is a science fiction novel with strong mystery/thriller themes that is easy to read and perfect for people who want to delve into the sci-fi genre for the first time.
How good is this book? Well, I immediately went out and bought his newest novel, The Collapsing Empire, two days later. So, yeah. That good.
Lock In is set in the near future about twenty years after a deadly disease known as Haden's Syndrome, so named after the president's wife who contracted the disease, ravaged the planet spreading rapidly from one city to another. Many died after the first stage – a simple set of flu-like symptoms. The second stage is worse, destroying the nervous system and 'locking in' the individual. These people are fully conscious and aware but unable to move or communicate in any way. Twenty five years later those millions of people with Haden's syndrome have neural networks implanted allowing them to use specialized robots and lead a normal life. Chris Shane, former poster boy for Haden's Syndrome, has just been hired on by the FBI to a special division that deals with cases involving people with the disease. His first day on the job lands him and his partner what at first appears to be simple case of murder involving Hadens.
I don't want to say too much about the novel because, as with most mystery and thriller novels, I feel that knowing less will enhance your reading experience. Needless to say, Chris finds himself embroiled in more plans than just murder.
This book does a lot of things right. On its most basic level, it's a mystery story – a classic whodunit with a thriller-esque feel. But it is much more than that. There are questions and commentary here on the human experience. What does it mean to be human? What is human? What some see as disease and crippling effects is simply another way of life to others. This isn't just the cerebral sort of commentary of many speculative fiction books, either. These aren't questions asked only of the reader, but ones which the characters and their society struggle with as well and ask one another outright.
The prose is easy to read and a healthy dose of humor is sprinkled throughout the story. The dialogue is realistic and, at times, humorous as well. This isn't a novel where dialogue for one character is going to be confused for that of anyone else. You get a real sense of that character's persona and their views on the world when they speak. The tale is told from the protagonist's point of view. Chris Shane is a good narrator, someone easy to like and root for. Some of the character may seem a bit typical to a mystery novel, but they never once felt two dimensional. These are people with pasts, hopes, dreams, and strong convictions. This is a world that is only just coming to terms with a plague-like epidemic. Likewise, the characters are all trying to come to terms with that as well, coming from very different places with wildly differing concerns and ideals.
The book is very accessible. While set in a futuristic society, it wasn't so far in the future as to require too much explaining on how the world itself functions. Necessary information is given up front. While there was a lot of information to convey in relation to Haden's Syndrome and how this affected the world, there was never a section that felt like an info-dump. Instead, information was relayed very naturally through conversations and events. This in itself lends the book well to those who haven't read too much science fiction but want to delve into the genre.
As for the plot, it worked. I love a good mystery story. This story satisfied that itch while remaining true to its roots in science fiction. I love the characters, especially Shane, and look forward to the next book in the series. I'll most definitely be continuing with this series.
Read this book. It's a great story set in an interesting futuristic world. If you enjoy mystery stories, near future science fiction stories, or have enjoyed other books by Scalzi, absolutely pick up a copy of Lock In. If you don't like mystery stories this probably isn't going to be the book for you.