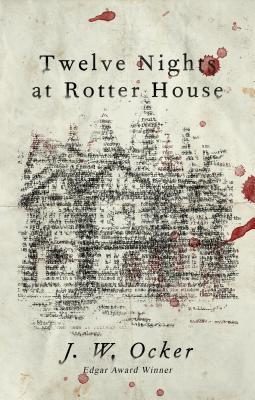 Twelve Nights at Rotter House
By:
J.W. Ocker
Release Date:
Nov 19, 2019
Publisher:
Turner
Rating:
J.W. Ocker's Twelve Nights at Rotter House is horror novel set in a classic haunted house. This is by no means Ocker's first work. He has written numerous books about creepy or otherwise odd locations across New England, including Poe-Land: The Hallowed Haunts of Edgar Allan Poe, which won an Edgar Award in 2015.
Twelve Nights at Rotter House is set in the infamous Rotterdam Mansion. Main character Felix Allsey is a nonfiction writer who has carved himself out a unique niche traveling the country and staying at supposedly haunted locations before writing about the location's history and what he himself has experienced there. Staying at Rotterdam Mansion will be his big break, Felix is sure of it.
The first few chapters are quite intriguing. The mansion is old, ornate, and the perfect haunt for ghosts. Felix has an interesting reason to stay in the mansion for all thirteen proposed nights as well. It's his job to stay, after all. A few scary things happen early on in the book, the sort of fare that could be expected from an old, potentially haunted mansion.
Unfortunately, the pacing doesn't quite hold up, and neither do the scary nightly occurrences. The story very quickly turns into a slowly paced tale that focuses more on Felix and his longtime friend Thomas Ruth, who comes to join him at the mansion. To be honest, scary and potentially ghostly occurrences are more of an afterthought for large swaths of the story.
Much of the middle section of the book is a character-driven, introspective look at the two men's friendship, their falling out, and how they are (or aren't) moving past all that has happened between them. There are lots of quiet conversations while waiting for the potentially paranormal to happen. There are also whole chapters worth of horror movie trivia games, something tons fun for horror movie buffs, but sections which may prove a bit more tedious reading for those who aren't longtime watchers of horror movies.
This section of the book is rather unevenly paced and includes some odd narrative choices. A lot of time is taken to giving nods to horror movies and horror authors, but nothing much actually occurs haunted house-wise. There are flashbacks as well, and the two men are only too happy to reminisce on their pasts. Frustratingly, the main character deliberately withholds crucial information from the audience for no real narrative reason. Even more frustratingly, the book blatantly goes off into strange, racist territory that is wholly unnecessary. While the book is told from Felix's point of view, and the friend he's had this falling out with is black, nothing was handled with any sort of a deft hand nor had any sort of meaningful commentary on topics such as racism.
There are twists and turns towards the end of the book, and the story takes on a breakneck pace. Those looking for typical haunted house horror might be disappointed as there are some sections with bloodier gross-out horror, particularly towards the end. The rest of the story really doesn't have much in the way of horror or spooky happenings at all.
Twelve Nights at Rotter House is a book that isn't exactly what it may appear to be. While there are some interesting twists and turns, I found myself growing disinterested and frustrated with the story. If you're looking for a good old fashioned haunted house story, this book probably isn't for you. If you are a fan of slower, introspective stories with flawed characters and don't mind a horror bend to the story, then you might find something interesting here for you.