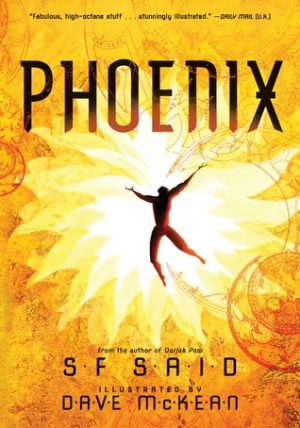 Phoenix
By:
S. F. Said
Release Date:
(Original) August 1, 2013; (US Release) October 11, 2016
Publisher:
Candlewick Press
Award:
Carnegie Medal Nominee (2014)
Rating:
Phoenix by S. F. Said is a book which, apparently, has been on my to-read shelf on Goodreads since its original release in 2013. I discovered it at the library, bright orange cover leaping off the shelf, as bright orange covers tend to do. I truly loved this book. Really. Honestly. It was a sit down after dinner and finish it in one go sort of a book, the sort you find only rarely. Surprisingly, this isn't a book I've heard very much about. So, here I am, singing its praises from the proverbial rooftop.
But first, what exactly is this book about?
Phoenix is a science fiction novel about a boy named Lucky. The story begins the night he has a dream of singing stars, only to wake up and find his sheets and clothes burned, now nothing but ash. Events spiral from this moment. Lucky and his mother are soon on the run, fleeing across the galaxy. As they run, dodging a war raging in intergalactic space, blockades, and two armies Lucky looks for answers to questions no one seems able to answer. No one except, perhaps, for his mother. Only she isn't talking. But the uncontrollable power Lucky seems able to wield isn't going to wait for her to change her mind. He needs to find these answers himself.
If you don't like reading from multiple viewpoints, don't worry. The story is told from Lucky's point of view and stays there for the entirety of the novel. Lucky is a very relatable character. He often reacts very realistically, not falling within certain tropes of the newly special-ability laden young adult protagonists sometimes have. Sheets burned to ashes for no explicable reason? Panic. Panic and try to sneak new sheets into your bedroom. Which, to be honest, is probably something close to how I would act when I was around that age.
There's always something wonderful about finding characters you can relate to, ones whose actions are understandable, even if they aren't entirely predictable. The majority of the characters fall into this category. I didn't dislike any of the characters. All of them felt very real, suffering from the consequences of a long war.
The world itself was quite interesting. The story takes place in the far future, long after humanity has colonized other planets throughout the galaxy. There is a fair amount of world building within the novel, but at no point do we get the dreaded infodump. The reader learns more about the world at the same pace as the main character, a boy from a small, out of the way place far away from the war zone (and everything else).
Now, I do have to say that this is by no means a hard sci-fi novel. Magical and fantastical elements are deftly woven into the tale. I really enjoyed this aspect of the novel, and I like places it took the reader and ideas explored. I know that's a bit vague, but I don't want to go too in depth for fear of spoiler territory. I expect this book to be a good entry point for fantasy fans who want to get into more science fiction but either don't know where to start or are a bit daunted by the genre.
Despite a 487 page word count, this book went by surprisingly fast. The prose is very easy to read, and the typeface is a bit on the large side. So don't let the size daunt you. The book is also rather fast paced. There are plenty of space battle scenes and fight scenes, all well-choreographed and tons of fun.
There are also some very beautiful illustrations by Dave McKean. The start of each chapter has its own two page illustration. Other illustrations can also be found within the novel, most often with a small amount of text accompanying it.
Final thoughts?
Read this book. Right now.
Seriously. It really is that good. It's well worth the read and is most definitely one of the best books I've read so far this year. Phoenix blends genres and makes excellent use of its graphics and illustrations. Fans of multiple genres will find something to love in this book. If you like middle grade novels, illustrations, and a blending of science fiction and fantasy, pick up a copy of this book. If you don't like middle grade novels, or don't like books combining science fiction and fantasy this book may not be for you.