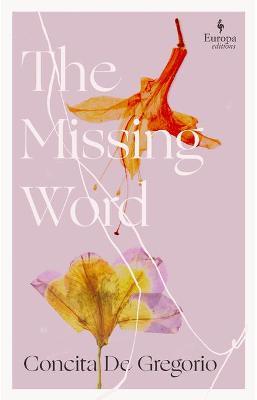 The Missing Word
By:
Concita De Gregorio
Release Date:
July 5,2022
Publisher:
Europa Editions
Rating:
One of the best explorations of grief, possibly ever written, is Concita De Gregorio's The Missing Word. Originally written in Italian and translated into English by the fantastic Clarissa Botsford, The Missing Word is the true story of a woman whose two young daughters disappear, never to be seen again. It is a story of desperation and grief, told with all the urgency of a psychological thriller. It is a story that will rip your whole soul right out of your chest, laying everything bare for all to see. And it is a story that I cannot recommend enough.
Europa Editions brings readers another unforgettable tale, this time from Italy. It tells the story of an Italian woman living in Switzerland, a marriage that has sadly ended, and the insurmountable trauma of losing her children.
Irina sent her daughters off to spend time with their father after their parents divorced. The weekend was like any other until her twin girls never came home. Alessia and Livia disappeared one day without a trace. There are no answers, no mystery solved—simply a mother trying to put the pieces of a broken soul back together the best she can, searching answers and for her girls.
This is a true story, one that is rather famous in Italy and other regions, but little spoken of in the US. The Missing Word is what all true crime should be. It is a deep exploration of grief told largely from Irina's point of view. Narration is mixed with letters and notes to family and authorities alike, highlighting attempts both at healing and at solving this crime against her family.
Despite its length, this is a novel that packs one hell of a punch. Prose so beautiful it aches mixes with the unfillable holes that have been left in Irina's heart and life. Something truly unforgettable is packed in this slim volume.
There are no answers here. None that Irina and the reader don't suss out themselves. The comfort and solace found in Irina's search is something the reader must discover for themselves. This is a dark story filled with sorrow grief. It is a work that holds hands with grief and forces readers to find and appreciate fleeting beauty and happiness within their lives and memories, as well as the unnamable, inexhaustible force that drives Irina to continue to search for answers despite all of seemingly insurmountable odds.