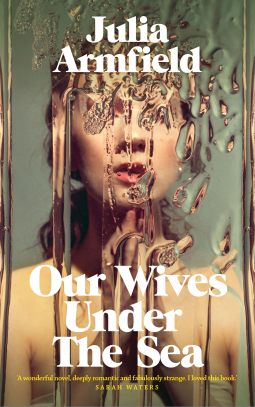 Our Wives Under the Sea
By:
Julia Armfield
Release Date:
March 3, 2022
Publisher:
Picador
Rating:
Some books are hard to categorize. Instead of being immediately recognizable as high fantasy or romance or the sort of literary work beloved by university professors, they meld genres, slipping from one to the other as if donning new clothes. Julia Armfield takes an exploration of grief, a celebration of love and romance, and the unknown horrors that lurk deep within the ocean, melding them together into a book that lingers long after the final page.
The story begins after Miri's wife, Leah, has returned from a long-running research expedition to the deep sea. Only, the research trip wasn't supposed to go on nearly as long as it did, and the Leah that returns home is not the same woman who left on the research trip several months ago. Something is different about her, something Miri both knows and doesn't want to know, doesn't want to look at too hard lest she find something she doesn't want to see.
Sections vary between Miri's voice and Leah's. Miri's sections are longer and more in-depth. Current life with Leah is juxtaposed with reminiscences on Miri and Leah's early dating days and what life was like prior to the fated research trip. What unfolds is a beautiful romance, the story of two women who met, fell in love, understand and accept one another flaws. And yet, we know that something about Leah is different. Their relationship has changed. Miri is beyond worried for Leah, grieving a relationship that has changed into something she doesn't recognize and mourning a spouse who is still right beside her.
The gothic very much slips into the pages here. Despite being an apartment as opposed to the enormous mansions often seen in the genre,
Leah's sections are shorter, usually only a few pages before melding back into Miri's account. Unlike Miri's deep exploration of love and loss, Leah speaks mainly about the fated research trip. What actually happened far beneath the waves is strange, far from the hard science Leah was expecting and filled with the sort of unknown Leah would rather never learn more about. Horror that is only hinted at in Miri's passages is explored in more depth. So too is love, loss, and grief, though largely from a much different perspective and through another lens.
Despite the undercurrents of grief and loss, Our Wives Under the Sea isn't a competitor in the "Depression Olympics", a term my brother likes to use for novels where everyone has a bad time and that's the point. There's real poignancy within this novel, and on many pages less always manages to say more. Love shines through each page, past loss and grief and change. Despite Miri saying that the woman who came back from the research trip isn't the same Leah who went down, there's learning, understanding, and compassion, even if there has been great change.
Our Wives Under the Sea is a tremendous book, and I cannot wait to see what else Julia Armfield may have in store for us in the future.