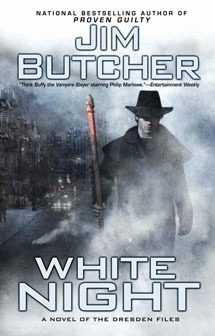 White Night (The Dresden Files #9)
By:
Jim Butcher
Website:
http://www.jim-butcher.com/
Release Date:
April 3, 2007
Publisher:
Roc Books
Series:
The Dresden Files
Rating:
Once more back to the Dresden universe where, in book number nine, things have not gotten easier for Harry Dresden or his loved ones. 
When magical practitioners are being killed Harry is on high alert. None of those dead are full-fledged wizards but Harry must be careful as he stumbles upon a group of practitioners being aided by his former love Elaine. Tensions are high, everyone is on edge and keeping secrets and, worst of all, Thomas is suspected of the crimes. 
And what do we know to be true about whenever Harry is on a case? There's always more complex trouble going on. While, obviously, Thomas isn't responsible for the deaths but the truth of who is makes things much more complicated. Skavis vampires are plotting to overthrow the White Court, Lara was behind the death of the practitioners and Harry, hating his limited options, makes sure Skavis goes down and ensures that the families of those that have died are financially cared for.
Perhaps the most shocking thing we see in this book isn't around the vampire, Elaine or even Thomas' involvement. No, what is surprising and somewhat heartbreaking is Lasciel's  decision. I will not tell you what happens here or what that decision is but just know, you'll never see it coming and you'll feel differently towards the Denarian after.  
And, as with most of my reviews of books by Jim Butcher about Harry Dresden here is one of my favorite quotes from the book.
"Sticks and stones and small caliber bullets may break my bones… Words will never, et cetera."
Okay, so let's be realistic here. Nine books in and you're still reading Harry's adventures and still reading reviews about them. At this rate, and with the books continuing to amuse and delight me, as well as perhaps you, I think it's safe to say you're still reading, regardless of whether or not you've read my review. And on a final note, if you've missed Warden Ramirez like I have, you'll love his appearance in this book.