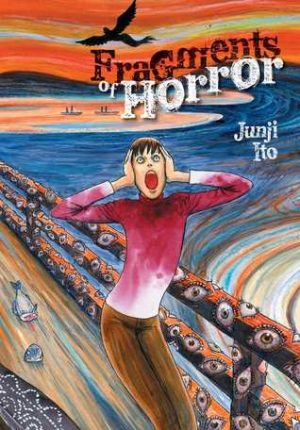 Fragments of Horror
By:
Junji Ito
Release Date:
(Original Japanese) July 8, 2014; (English) June 16, 2015
Publisher:
VIZ Media
Rating:
This book has been sitting on my shelf for quite some time. Unlike the majority of the small library my husband and I have acquired, this one is his! Fragments of Horror is a manga filled with short, one chapter stories by Junji Ito, author of longer works such as Tomie. Ito is a master of horror, each story filled with strange, bizarre happenings and art that is as beautiful as it is terrifying.
I always enjoy collections of stories. There is always something outstanding tucked away in the pages. Unlike other anthologies I've read I can't really pinpoint a story I didn't like, or one that didn't click with me. When first reading this collection I was surprised by this. I've read standalone manga volumes in the past and while largely enjoying them, I do often feel that something is missing. This is not the case with this collection. These are short stories in their truest sense. Each tale is one chapter of the manga. Some are a little shorter or a little longer than others, but none vary terribly wildly in length.
Like many anthologies, this one has something for everyone. Stories range from more traditional tales like ghost stories to terrifying monsters.
And the art!
My god, the art is so beautiful, if you can call grotesque, monstrous creatures beautiful. The backgrounds are nearly always filled in and detailed, the manga not at all bearing the people hanging around in white space style that proliferates certain genres. The manga format is used to the best of its ability by Ito. Each panel is perfectly handled. The eye travels over the page with ease. But what Ito is best at is the page turn.
Turn a page and you never know what you're going to find on the other side. Sometimes it's relatively tame, more text and interaction between characters. Sometimes is a full two page spread of the horrific thing plaguing the protagonist. Each page turn is perfectly handled. The main character's shock and horror is mirrored in the reader. The same emotion is drawn from both – the character at entering a room or turning around, perhaps, to find this unnameable thing staring back; the reader turning the page only to find a grotesque horror staring back at them.
This book can honestly be scary. And not just because of the page turns. The stories are unsettling. They leave you squirming, uncomfortable. Or else holding your breath.
The edition of Fragments of Horror I have is hardcover. While more expense than paperbacks, I feel this one is worth the extra cash. The cover design is very beautiful. The cover art on the dust jacket is a play on the famous painting Scream by Edvard Munch, but with a distinct Ito twist. The cover itself bears the title and author and is covered in art from the book. At first, I thought the dust jacket was just that. But with time and a different angle of the lighting I realized it was more. Light, almost invisible lines form monsters included within the manga along with other horrifying creatures, only seen when the light is angled the proper way.
The physical cover of the manga is even better than the dust jacket. Silvery drawings stand out from the black background. Terrifying monsters and unnamable things peer from the depths, watching the reader, some poised as if ready to strike. It's beautiful, fantastic, and tastefully covered by a less obviously frightening dust jacket in case you aren't the type that likes terrifying monsters staring at you from atop your bookshelf when the lights are off.
I really do love Fragments of Horror by Junji Ito. It was frightening and completely engrossing. I will definitely be picking up more of Junji Ito's works in the future. If you like horror stories, even if you aren't a fan of manga or graphic novels, you will want to read this book. If you don't like horror or are squeamish this may be a book you want to skip.