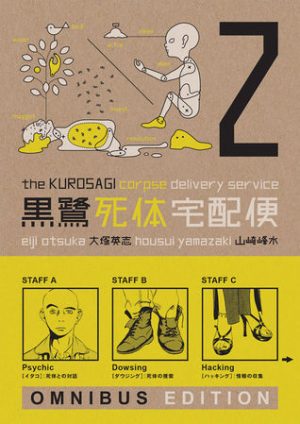 The Kurosagi Corpse Delivery Service Omnibus, Book 2
By:
Eiji Otsuka
Illustrator:
Housui Yamazaki; Bunpei Yorifuji
Translator:
Toshifumi Yoshida; (editor/english adaptation) Carl Gustav Horn
Release Date:
November 18, 2015; (original)
Publisher:
Dark Horse Manga
Series:
The Kurosagi Corpse Delivery Service
Rating:
Horror manga is a genre I have long loved, starting with Junji Ito's work. More recently I discovered The Kurosagi Corpse Delivery Service by Eiji Otsuka. Funnily, once I was finished with the first volume of the omnibus and ready to purchase the second volume it was out of stock on nearly every website I usual frequent for manga purchases. Thankfully, my brother works at a bookstore and was able to snag a copy! The Kurosagi Corpse Delivery Service Omnibus Book 2 is a great horror manga that more people should read.
The Kurosagi Corpse Delivery Service Omnibus Book 2 continues the story of Kuro Karatsu and his friends at the Kurosagi Corpse Delivery Service. While this service masquerades as a delivery service, their actual purpose is finding corpses and carrying out any last wishes they might have. And, hopefully, get paid for their services. But their wishes of making money are often foiled and the last wishes of the dead often prove difficult to carry out.
If you haven't started this series yet or would like to catch up on our reviews for this series you can check out what we thought of Volume 1 here.
The first volume of this series was very episodic in nature, and this extends to the second volume as well. Despite this, the overarching plot did get a lot more advancement in this volume. The nature of the ghostly figure who follows around our main character are explored further. Hints are dropped, more pieces to the puzzle reveal themselves, and we even get a flashback chapter. There are no answers, per se, but Karatsu's ghostly follower is much more prevalent in the second omnibus than the first. He plays much more of a role, his influence in events much more obvious than in volume 1.
Certain characters are featured more prominently within this volume. Yata does feature more prominently within at least one of the stories. While usually relegated to more of an almost comedic relief role, it was nice to see him at the forefront of the story. Sasayama also played a larger role in many of the cases the Kurosagi Corpse Deliver Service takes on in volume 2.
Something I greatly respect about this series is the respect the characters have for the deceased. While they are looking to get paid for their services in whatever manner a corpse could manage, they clearly care about the deceased's wishes. Victims of violence are given sympathy, but so are the perpetrators. All wishes are granted, no matter how far the characters must travel or what crazy schemes they must unravel. Despite the more gruesome scenes, the chilling aspects of certain stories, or the joking between characters this respect always remains.
There are a few places where the art is a bit questionable. This only occurs once or twice, but they were noticeable. The perspective feels off in a few panels, particularly when the characters are bent over and looking at something on the ground. Yet the most noticeable is towards the end of the volume when one eye was simply never drawn on a certian character. Though this is the sort of manga which would and does use missing body parts as part of the storytelling or horror elements, this particular instance didn't feel intentional. The character had two eyes before and after, and seems to have simply been left out. These occurances seem to be rather limited, though, and are not an overall indication of the quality of the manga. In fact, they stood out because it was so unlike the rest of the manga.
The Kurosagi Corpse Delivery Service is still graphic in nature. They are a service for the dead, and most who require their services have not died in pleasant ways. If you do not do well with horror or other graphic content do be warned going into this.
I am most certainly continuing with this series. In fact, the third volume is already on my nightstand. I would definitely recommend checking out The Kurosagi Corpse Delivery Service by Eiji Otsuka, Housui Yamazaki and Bunpei Yorifugi.