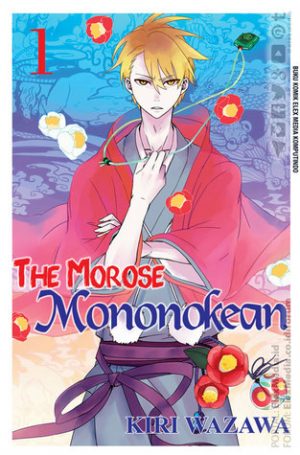 The Morose Mononokean Vol 1
By:
Kiri Wazawa
Illustrator:
Kiri Wazawa (artist); Kaitlyn Wiley (Letterer)
Translator:
Mikka Stifler
Release Date:
September 12, 2013
Publisher:
Square Enix
Series:
The Morose Mononokean
Rating:
I love finding new manga to read, things I've never heard of, things that are harder to find. One such manga is currently available through Crunchyroll (I definitely recommend taking a peek at their manga section). The Morose Mononokean Vol 1 by Kiri Wazawa is a lighthearted, fluffy manga about a boy who becomes part-time help for an exorcist.
Ashiya's been ill since the beginning of the school year. The cause? A demon that's attached itself to him, one no one else can see. No one except the young owner of a mysterious tea-shop, that is.
The main characters, Ashiya and Abeno, are both high school students. One is an exorcist looking for help, the other a student plagued by a demon that has been slowly sapping his strength and leaving him quite ill at the beginning of his first year of high school. When Ashiya meets Abeno, he quickly finds himself as part of staff helping demons and humans alike with their problems.
The demons of this world are very varied in appearance and abilities. They are incredibly varied in appearance, but all range from pretty cute to downright cuddly. These aren't the sort of terrifying, magical demons that are found in other stories. They're cute supernatural being most others cannot see who, largely, just want to go back home to demon world. Exorcising demons is just as much, if not more, of a task of helping these demons as it is saving humans.
This is an interesting spin that isn't often seen in these types of stories. Demons are portrayed as more misunderstood than dangerous, at least so far. They are understandable, with personalities, motivations, and desires that are quite universal in nature. I liked this aspect of the story, as well as the great misunderstanding of the main character at the beginning of the volume.
We don't know a whole lot about demons or the world they come from yet. Abeno's abilities aren't wholly explained, nor is the reason why Ashiya can see demons when most other people cannot.  While we don't know a lot about exorcisms, demons, or the demon's world there are hints at what might come. The first volume ends with the main character about to go on his first solo mission, and I'm very interested to see what might become of it.
It is often the smaller things that I appreciate in manga, especially with the art. One of the aspects I enjoyed about this volume was the portrayal of the mother. Many mother's in manga or anime aren't always overly distinguishable from older siblings. It's nice to find a mother who looks older than 25 every once in a while, and this manga didn't fall into that trope. Overall, the art was very enjoyable. The demons are unique, varied, and range from pretty cute to downright cuddly.
This is largely how I felt about the manga at large. It was warm, cozy, and great fun to read. I was invested in Ashiya and Abeno, but also in the individual demons and their plights.
The Morose Mononokean Vol 1 by Kiri Wazawa is currently available to read on Crunchyroll. There is no print release currently, but Crunchyroll's manga section does have the first ten volumes and keeps up with simul-pub chapters. So check this out if you can. This is a very enjoyable, somewhat fluffy manga, and I will absolutely be reading further volumes in the series.