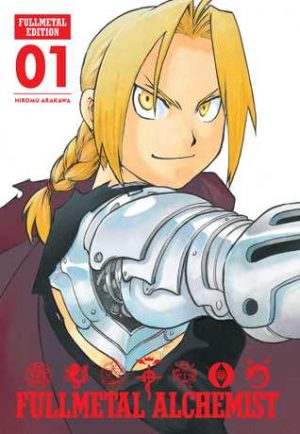 Fullmetal Alchemist: Fullmetal Edition Vol 1
By:
Hiromu Arakawa
Illustrator:
Hiromu Arakawa (artist); Steve Dutro (Letterer); Adam Grano (Design)
Translator:
Akira Watanabe
Release Date:
May 8, 2018
Publisher:
VIZ Media LLC
Series:
Fullmetal Alchemist
Rating:
Tomorrow sees the release of a beautiful new hardcover edition of a genre defining series,  Fullmetal Alchemist: Fullmetal Edition Vol 1 by Hiromu Arakawa. This new edition is a gorgeous, high quality hardbound edition that is absolutely perfect for fans and collectors alike.
Fullmetal Alchemist, for those who aren't familiar with the series, is a fantasy manga series which follows brothers Edward and Alphonse Elric. The two young alchemists broke the greatest taboo – attempting human transmutation after the death of their mother left them orphaned. In exchange for the attempt at raising the dead Edward lost an arm and Alphonse his whole body, his soul forevermore bound to a suit of armor. Now as an alchemist within the military Edward will do whatever it takes to get his younger brother's body and his missing limbs back.
It is always a pleasure to reread an old favorite, and Fullmetal Alchemist is certainly no exception. This edition is absolutely gorgeous. The manga is in hardback format, much larger than the typical manga volume. The pages aren't the usual paper, either. Here we have high gloss pages normally seen in graphic novel volumes but rarely in manga. It looks beautiful, and it held up to reading very well, with no spine splitting and the center pages remaining easy to read despite the volume being over 250 pages long. Even the very last page, which typically has a note on which way to read the manga along with helpful diagrams gets special treatment, featuring only a simply note that this is the last page and a string of some of the alchemical symbols found throughout the series.
The story itself is, as always, absolutely wonderful. We are introduced to Ed and Al who are searching for information about the philosopher's stone in a town ruled by a cult-like religious leader, continuing on with some one chapter adventures as they make their way back to the capital. Volume 1 of the manga continues on in this way. We learn much about Ed and Al both as people and as alchemists through their interactions with others. While information is conveyed through dialogue, there is never an info-dump. The story keeps moving, introducing new characters and world mechanics very organically.
Panels don't always have extremely detailed backgrounds, but that is done purposefully. The lack of background is, at times, a great strength, adding power to certain panels that wouldn't otherwise have it. For example, the panel showing Rose walking away from Ed and Al, choosing to follow Father Cornello not because it was the only path she could choose, regardless of how she felt is incredibly powerful. There are no walls or floor outlined here, no panel boarders, just Rose with her back to the brothers, walking away in total silence. It's the sort of image that makes you pause, the sort of image that says more than any amount of words possibly could.
This is why this volume, and the series at large, is just so very good. It tells an utterly fantastic story and utilizes the medium to the best of its abilities. The characters are real, they are sympathetic, and they are incredibly memorable.
If you haven't read this manga or watched either one of the anime series based on it, I would highly suggest reading it. Fullmetal Alchemist: Fullmetal Edition Vol 1 by Hiromu Arakawa is a must have for fans of the series. Absolutely pick up a copy.