Hi, Everyone. Kate here. I love readathons. They're a hell of a lot of fun. Added bonus – they tend to help during reading slumps. At least for me. This weekend I participated in the #GetGraphic readathon, where only graphic novels, comics, manga, and other graphic based narratives are read. The readathon was hosted by perpetualpages, Wish Fulfillment, whatshappening, and BOOKadoodles.
I only read four graphic novels and manga this time. I had more planned originally, but other commitments and some unforeseen circumstances meant that I didn't have as much reading time as originally planned. Such is life I suppose. Full reviews will be posted of each book, but below you can find what I read and some thoughts on each volume.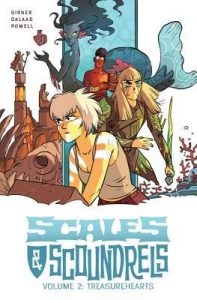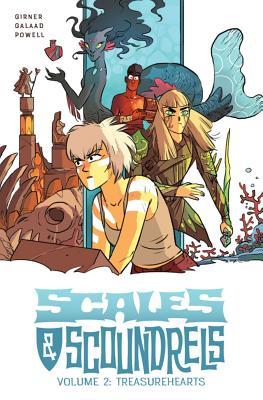 Scales & Scoundrels Vol 2: Treasurehearts
By: Sebastian Girner (writer); Galaad (art); Jeff Powell (Letterer)
This is the second volume in a series about a woman named Lu, who isn't quite human. This is a high fantasy adventure series that is a TON of fun, and most definitely my favorite ongoing graphic novel. Volume 2 concludes the story line from the first volume, introduces some new characters, and tells a lot of Lu's history.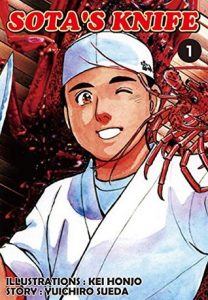 Sota's Knife Vol 1
By: Yuichiro Sueda (writer); Kei Honjo (artist)
This is the story of Sota, a young man whose a dishwasher in an upscale resturant who aspires to become a head chef himself one day. A slice of life story about following your dreams, hard work, and food. It was a fun story with a very likable protagonist. I'll definitely be reading more in this series.
Lumberjanes Vol 4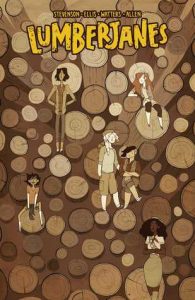 By: Noelle Stevenson, Shannon Watters, Grace Ellis, Maarta Laiho, Aubrey Aiese, Brooke A. Allen
I love Lumberjanes. It's a great series and I really need to catch up on all of these. This volume was fantastic. We learn a bit more about the Lumberjanes as an organization as well as the camps leader. A few questions are answered and many more are opened. This is probably my favorite volume since volume 1.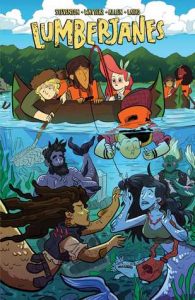 Lumberjanes Vol 5
By: Noelle Stevenson, Shannon Watters, Carolyn Nowak, Grace Ellis, Brooke A. Allen
I continued on my Lumberjanes reading spree with Volume 5. This was a fun side adventure that focused more on characterization and character development than the overarching plot. The girls get involved with a kerfuffle with some merpeople living in a nearby lake with chaos quickly ensuing. While I liked the art style in this volume I did find it difficult to ID a few of the main characters when I first saw them. This was definitely not a deal breaker, but is something to keep in mind.
Full reviews will be posted on each graphic novel and manga over the next few weeks. As always, I had a lot of fun with the #GetGraphic readathon. It was a great way to get back into reading after being in a bit of slump the past couple of weeks. I can't wait to read more of the Lumberjanes series. I can't wait for more Scales & Scoundrels. And I can't wait for the next #GetGraphic readathon.
Did you participate in the readathon? What's the last graphic novel or manga you read? Let us know!