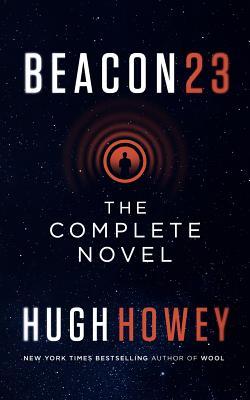 Beacon 23: The Complete Novel
By:
Hugh Howey
Website:
http://www.hughhowey.com/
Release Date:
August 12, 2015
Publisher:
Self-Published
Series:
Originally a series of short stories.
Award:
Goodreads Choice Award Nominee for Science Fiction (2015
Rating:
So, I've had a Kindle for years. Somehow I missed that you could check out a book from the Amazon store as a library book. Once I figured out that (a) this was a thing and (b) how, exactly, to do it, I checked out Beacon 23: The Complete Novel by Hugh Howey. Despite actually owning his first novel Wool, this is the first of his books I've actually read. (I know, I know. I'm a serial TBR pile neglector.)
Originally published in five parts, this is the complete novel edition. It is a story about a former military officer now working the lonely position of beacon operator. All alone in a largely uninhabited part of the galaxy, he works the 'lighthouse' – a space station whose sole purpose is to warn and guide incoming vessels of the large, very dangerous asteroid field nearby.
Each section tells a rather cohesive story from the eyes of Digger, the main character, as mishaps occur aboard the beacon, he attempts to deal with the horrors of war, and maybe even worse, being the only one in his squadron to survive it. I really liked Digger, and reading the story from his point of view. I liked the stream of visitors – both real, and, quite possibly, imagined ones – to the beacon as well.
Parts 1-3 were very, very good. They had humor while, at times, being completely unsettling as Digger loses grasp with and struggles to regain sanity. Part 4 introduced another nearby beacon operator and potential love interest. This section felt a bit different from the first three in tone, but retained the same themes and language overall.
Part 5, on the other hand, I couldn't quite stand behind as I did the first four. The ending felt just a little bit … oh, I don't know. Odd? It simply didn't quite line up with the majority of the rest of the book. It does retain some similar characteristics. There is still an air of 'did this actually happen' about it. The quite possibly unreliable narration of Digger is stronger than ever. But, all in all, I would have been perfectly happy if the series ended at part 4.
Read If:
ou like science fiction, you like first person narratives, you like novels that delve into the psychology of a character

Don't Read If:
you want the tech in your science fiction to have a very firm basis in reality, you don't like books that deal in large part with a characters mental state