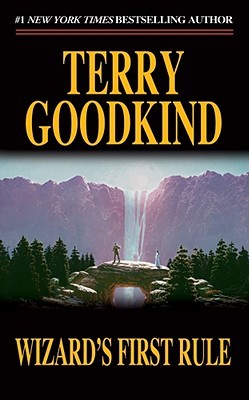 Wizard's First Rule
By:
Terry Goodkind
Release Date:
January 1994
Publisher:
Tor
Series:
Sword of Truth, Book #1
Award:
Locus Award Nominee for Best First Novel (1995)
Rating:
I finally did it. I finally read Terry Goodkind's Wizard's First Rule. I meant to read this for years. It's my husband's favorite book of all time. We have two physical copies and an ebook version. And, finally, after years of nagging, I sat down and read the whole thing. At once. All the way through. All 800 some odd pages. In less than 24 hours. It was just that good. I love, love, high fantasy and this one was wonderful.
Now, high fantasy can be a tricky thing in that it seems to divide everyone who claims they love high fantasy. There three groups as I see it. 1 – If I see a trope I will burn this book. 2 – Give me a Gandalf clone and give him to me now. 3 – Those who read both innovative novels and long series that rely heavily upon their predecessors in the genre.
So, where does this one fall?
I'm not going to lie and say this novel is completely innovative. It does lean towards some well used tropes and a few old genre standards. But this isn't a bad thing. Terry Goodkind uses these genre standards with amazing skill. Sure, Richard, the main character, lives in a small town with no mother and a freshly murdered father who was a trader in life, more or less the opening of any of a number of good high fantasy protagonists. There are wizards, and evil queens, and an appearance of a dragon. However, all of this is handled with extreme care.
Also, its dark. Very dark. Parts are extremely dark. (Really, I mean it. Read with care. If you can't handle things of graphic nature, skip this book and move on to another high fantasy). And, as you close in on the end, it just gets darker. There is payoff, though, and even if it isn't a happily ever after (this is book one in a very long series) it is happy for now. Maybe more importantly, this first book tells a complete story. It is very feasible to read this, never touch the rest, and still have a whole, completely satisfying story with a beginning, a middle, and an end.
If you love high fantasy, especially traditional high fantasy, you should definitely pick up a copy of Wizard's First Rule if you haven't already done so.
Read If:
You like traditional high fantasy, you like dark fantasy, graphic and sexual violence doesn't bother you

Don't Read If:
You don't like Tolkein-esque derivatives, high fantasy/epic fantasy isn't your thing, you don't like violence of graphic and sexual natures.