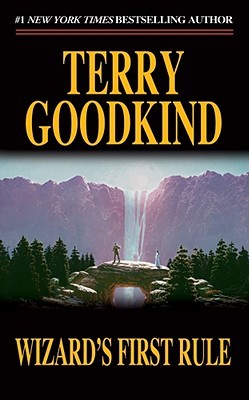 Wizard's First Rule
By:
Terry Goodkind
Release Date:
January 1994
Publisher:
Tor
Series:
Sword of Truth, Book #1
Award:
Locus Award Nominee for Best First Novel (1995)
Rating:
I finally did it. I finally read Terry Goodkind's Wizard's First Rule. I meant to read this for years. It's my husband's favorite book of all time. We own two physical copies and an ebook version. And, finally, after years of nagging, I sat down and read the whole thing. At once. All the way through. All 800 some odd pages. In less than 24 hours. It was just that good. I love high fantasy and this one certainly satisfied that itch.
The story leans towards some well worn tropes and a few old genre standards. Richard, our main character, lives in a small town, has no mother, and his father was freshly murdered. There are wizards, evil queens, and a dragon. But this isn't necessarily a bad thing. The story knows exactly what it is and uses everything to the absolutely best of its ability.
That said, the book certainly isn't afraid of a little innovation. The tone is decided darker than many high fantasy I've read. Heck, its darker than a lot of dark fantasy I've read. Seriously, if you don't like reading about bad things happening to good people I'd highly suggest picking up a different high fantasy series.
Really. I mean it. The book gets very dark and very graphic at parts.
Despite being part of a very long series, the first novel ends on a pretty satisfying, self containing note. While it's apparent there will be further books, a reader could, conceivably, finish the first novel and walk away completely satisfied. The story wraps up with a happy for now ending, which was much needed after the many struggles and tribulations the characters went through.
If you love high fantasy, dark fantasy, or grimdark, you might want to pick up a copy of Wizard's First Rule. And if you like the first book of the series, there are certainly plenty of further books in the series to binge.