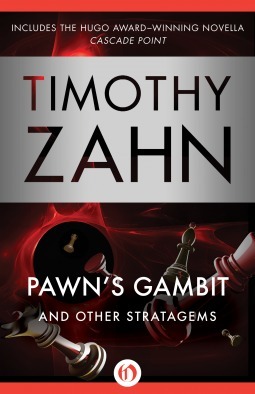 Pawn's Gambit: And Other Stratagems
By:
Timothy Zahn
Website:
https://www.facebook.com/TimothyZahn
Release Date:
January 5, 2016
Publisher:
Open Road
Received From:
Publisher
(All reviews are our own, honest opinions.)
Rating:
Timothy Zahn is a name I've heard often when speaking with friends about books. Half a shelf at my local library is dedicated to his work. Yet, I've never picked up one of his books. Pawn's Gambit: And Other Strategems is the first Timothy Zahn book I've read, or, at least, remember reading. And I certainly wasn't disappointed.
Pawn's Gambit: And Other Stratagems is a collection of short stories and novellas by Timothy Zahn. All have appeared elsewhere before being compiled into this book, with publishing dates ranging from 1981 to 2014. So, if you read a lot of Zahn's work chances are you'll have come across at least a few of these before. If you haven't read his short stories before, then this is the place to find them. We've got old favorites and stories you may not have seen before all compiled in one volume.
The short stories included within Pawn's Gambit were all written very well. Overall, they were very easy to fall into, containing worlds and adventures easy for readers to get swept up in. The majority had generally likable characters, people who I genuinely cared about despite only knowing them for a handful of pages. The vast majority of these stories were told from the first person point of view. This worked to the story's advantage, allowing us to get closer to the main character in a very short amount of space.
Much bigger worlds were hinted at in these stories. Never did it feel like there wasn't a world with its own history, peoples, and problems beyond what we were allowed to see. This is something I greatly appreciate when reading short stories. I like feeling as if there is more to this world just waiting to be found, like the author could have made this into a novel or novella, but made the conscious decision to keep the tale short and tidy. That is exactly the feeling I got with a lot these stories.
Some of the stories I found more memorable than others. One in particular didn't hold my attention as the majority of them did. But even those were well written, well plotted, and contained memorable characters.
That's part of the beauty of anthologies. There's something in here for everyone. The short stories in this volume all fall within speculative fiction; some are science fiction while others are fantasy. Some stories are set in deep space. Others are set in post apocalyptic worlds. One which stood out in particular for me was Cascade Point, a novella which has previously won the Hugo Award. No surprise there, I suppose. But this story in particular is most definitely worth reading, and stuck with me the longest after finishing the book.
I highly recommend giving Pawn's Gambit: And Other Stratagems a read. It's perfect for fans of short fiction, fantasy, and science fiction alike. If you aren't usually a fan of short stories, but like Timothy Zahn's other work, give this anthology a try. You might just find something wonderful tucked away in these pages.