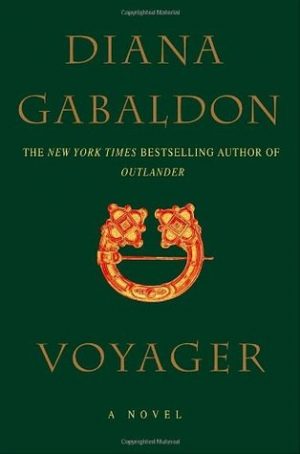 Throwback Thursday: Voyager
By:
Diana Gabaldon
Website:
http://www.dianagabaldon.com/
Release Date:
December 1st, 1993
Publisher:
Delacorte Press
Series:
Outlander Series
Rating:
Will life every be easy for Claire Randall and Jamie Fraser? The obvious answer is no, of course not. In this book we once again pick up where we left off and we once again see Jamie trying to recover from injuries while Claire struggles to find her answers in the modern world and make a decision that will effect her and her daughter's lives. Spoiler alerts ahead, once again.
When we return to the series we see Claire, Brianna and Roger continue their research into Jamie's life. Claire, despite the love for her daughter, debates on whether or not she could possibly return to Jamie and leave her daughter behind. Despite her ties to her daughter Claire has, at this point, sacrificed twenty years of her life to raise Brianna. Despite the worthwhile sacrifice Claire feels, deep down, that she must return to Jamie. And so, she does, with the support of her daughter.
Finally, after a book apart, we see our two main characters reunited! Things have certainly changed though as we see how both characters must relearn each other, understand what the other has gone through and reconnect. Claire learns of Jamie's child, Willie, who was conceived after being blackmailed into relations with a woman. When he sees the resemblance between himself and the child he leaves Helwater and looked for another way of life, without Claire.  
When Claire returns and fines Jamie he is very different than how she left him. Jamie, under the name of Alex Malcolm, a liquor smuggler running a printing shop as a front. Claire and Jamie tell everyone that Claire had been sent off to live with French relatives after believing Jamie killed at Culloden. This story is generally believed and Claire and Jamie being to find their niche together again.  
When Jamie brings Claire and his nephew, Young Ian, back to Lalybroch it is then that Claire discovers Jamie had remarried and that she has two step daughters, Marsali and Joan. His new wife is no other than Laoghaire, who had previously accused Claire of witchcraft. Claire, brokenhearted and angry leaves Lallybroch. She is soon, of course, pulled back with Laoghaire shoots Jamie and he becomes sick with infection. It seems that the one constant in this world is Jamie's injuries will always bring Claire back to him.
Once Jamie and Laoghaire settle the end of their marriage Claire and Jamie are caught up in saving Young Ian from kidnappers. I quickly became frustrated as, of course, Claire and Jamie are separated again and spend their time trying to save each other and, in general, running in circles trying to find one another. At the very least I can say that Gabladon does things correctly in allowing Claire and Jamie to find each other again before the end of the book because it took them far too long to get back together again.
It seems fate cannot let things go smoothly because once Claire and Jamie have Ian again, after they run across Geillis Duncan once again (who had been holding Ian captive) they are blown off course and find themselves, in all places, the colony of Georgia.
While I enjoyed this book, especially the reunion, I had an issue with Claire and Jamie immediately being ripped apart from each other again. I know drama drives narrative but I'm a sucker for this couple so I remained upset until I was able to get my hands on the next book in the series Drums of Autumn.
To find out what I thought of the following book in the series, stay tuned. I am with this series until the end and will continue reading it until Diana Gabladon doesn't add to it any more. (At this point, why would you want her to?)