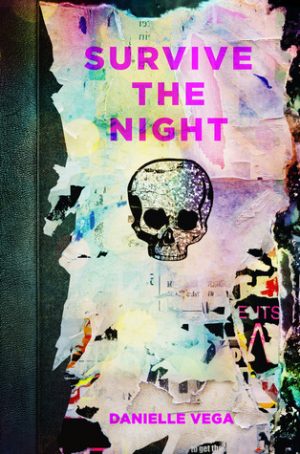 Survive the Night
By:
Danielle Vega
Website:
http://www.daniellerollins.com/
Release Date:
July 7th 2015
Publisher:
Razorbill
Rating:
High hopes for this book were, unfortunately, dashed. The cover was intriguing and I had hoped for a great story. I don't normally read what could be considered horror and so, given that I'd heard of the success of Vega's other book The Merciless (which I have yet to read)  I took a chance. I sort of which I hadn't.
I thought this story would be one of redemption for the main character Casey. She's on the road to recovery after a drug abuse problem and when she's home what is the first thing she does? Lies to her parents, runs of with her friends from the "bad crowd" and goes to an overnight rave in an abandoned subway station and tunnel system. There goes her shot at redemption.
Aside from the chance of redemption being shattered the story itself, despite her immediate bad choices, starts of slow. Instead of bonding with the character or learning about them organically through the story we are told about them. Instead of making me care I was more just curious to speed up the reading and hopefully get to the intriguing mystery of who is killing these people.
It's not a who, it's a what. It's a paranormal beasty thing that those who do surive barely make it. And there is zero character redemption and little to no character connection. Perhaps I'm juding the book to harshly because I don't read horror enough but honestly I wasn't scared while reading. I was frustrated.  
Things felt rushed and incomplete. There was a good amount of shock value but the fact that the book's ending was posed to be one of those "did it really happen or didn't" types frustrated me further. Do we blame Casey's drug addiction? Do we blame an actual monster? What happened is a question but it's not one I'm desperate to have answered at this moment.
Casey seems stuck in a loop of traumatic, life altering events, seeking (or being forced into) rehabilitation and  looking for a new start. Will she get it? Who knows. Like I said I am not desperate to find out but I will say this, some of Vega's style is appealing to me so I will say I am likely to give one of her other books a try. I wish I had more to say for this book but my disappointment has left me with few words.