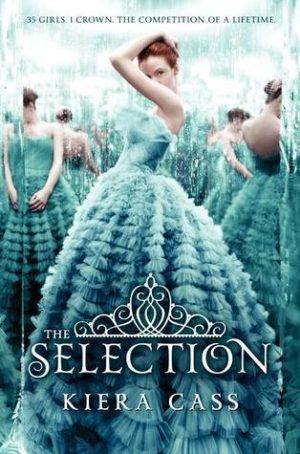 The Selection
By:
Kiera Cass
Website:
http://www.kieracass.com/
Release Date:
April 24th 2012
Publisher:
HarperTeen
Series:
The Selection Series
Award:
Abraham Lincoln Award Nominee (2015)
Rating:
The Selection is one of the books I looked at with curiosity but hesitation. I'm not one for girls in pretty ballgowns, I prefer heroines battling their own enemies while wearing pants and having swords clash around them. Still, America Singer's story pulled me in. I am well aware this is not everyone's cup of tea (reviews on Goodreads will show that) but let me explain why I give this a high rating and why you should at least give it a shot.
Where to begin on things that I liked about this book. Firstly, America Singer was relatable. A girl who, once her plans, hopes and dreams are dashed reacts out of scorn and spite. Of course, if all young adult revenge plots ended up with you living in a palace and being paid for it I guess more people would take this road. Still, her actions put her in an unexpected situation. She enrolls in the Selection, a drawing from around the country, to find the prince his future queen.
This novel is a dystopian setting, the world has changed and everyone has gone back to the monarchy system of ruling and, as such, every country must continue the bloodline so every heir must marry and produce more heirs. Weddings can be political negotiations and, most often, they are done so for reasons other than love.  
The details of the caste system, the arranged marriages, the Hunger Games-esque style of making the process of getting to a winner a television program the whole nation watches are enjoyable. The characters we meet are complex and, for the most part, enjoyable. Appropriately the characters you hate are the ones you love to hate and the characters you love are generally the ones you are meant to love.
The love triangle between our heroine America Singer, the Prince Maxon and her former boyfriend Aspen is, in many ways, a cliche. However, I have to say, the back and forth between the characters, the slow change of feelings and the realistic way in which America struggles to follow her heart make up for all the cliches you find here. The banter and sarcasm between Maxon, America and Aspen is entertaining and often had me smirking or quietly chuckling while I read.
All the characters are enjoyable and well written which, for me, made this book worthwhile. I especially loved how each personality was distinct. While there were many competitors for America to contend with for Maxons heart each girl was, in fact, her own person. America's family and friends are especially well fleshed out as it is these people who influence America the most. Her mother, desperate for her children to have a better life, pushed America to enter the selection. Her father, sweet and encouraging, wants her to be happy. Her siblings, each of them unique, weigh in on the Selection and America's chances. Aspen, her former/ secret boyfriend is simultaneously sweet and annoying, we see his good side that makes it easy to see why America loved him and we see the side of him that makes it easy to see why she would be able to move on from this relationship. 
I will admit this–there is some predictability to this book. You can't avoid thinking the "what may happen" moments throughout the book and I can guarantee more than a few of you will guess the ending. Despite that you should give it a try, if you go into this book with an open mind I don't think you'll be disappointed.