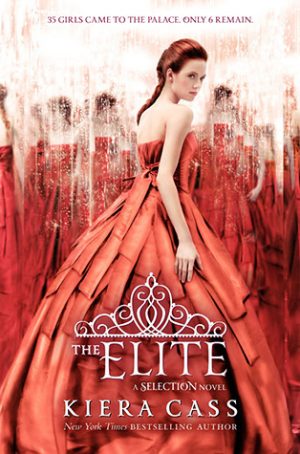 The Elite (The Selection #2)
By:
Kiera Cass
Website:
http://www.kieracass.com/
Release Date:
April 23rd 2013
Publisher:
HarperTeen
Series:
The Selection Series
Rating:
The second book in this series, like the first, didn't disappoint me. We continue with America Singer and the remaining contestants of the Selection as the women work to win the heart of Prince Maxon. America meanwhile is stuck between a rock and a hard place as her heart still pulls her to her first love, and palace guard, Aspen. Who will she choose? And, when she's ready, will the one she chooses still be hers to claim?
Side note: let me add that I absolutely adore that this book and the first book in the series, The Selection, came out nearly a year to the day apart. I love when things fit together neatly.
Anyway, on to the story. When this book came out I grabbed it immediately and sat down on a Sunday to read it. I finished it in one day. In that one day I read about how Maxon, trying to protect his heart and the country, is trying, truly trying, to fall in love with the other girls of the Elite. However, we all know that falling in love shouldn't take any effort. Still, Maxon tries his hardest to find something within the other girls to connect to. While he makes some small connections it is clear to everyone, except America I guess, that she has his heart won already. Maxon, however, knowing the difficulties she is having with this entire competition, doesn't pressure America.
This book has more stressful moments throughout and while I'm loathe to give spoilers away you must know about these things in order to understand why this book continues to be highly rated by myself and other GoodReads users. SPOILERS BELOW.
We see a few moments of tragedy, heart-wrenching situations and violence in this book which begins to change the tone of the series. The threat of the rebels becomes more real. The punishment of Marlee and Carter. The reality of how Maxon's father, King Clarkson Schreave, attempts to rule by force. All of these moments are hard to read as a fan of these characters because you fear for their lives, their future and their safety.
The most heart-wrenching moment for me was when Maxon had Marlee and Carter punished. It's understandable to an extent because by having a fling together, while Marlee is part of the Elite, is treason by the rules of the competition. However, we se the depth of their love for one another as they take the beatings, the pain and the dishonor of being made eights (the lowest caste) all to be together. Like America I was angry and Maxon for allowing such a fierce public beating to take place. However, when Maxon shows America to Marlee later on, that she is safe and protected in the castle, along with her new husband Carter, we see that Maxon not only cares about America's feelings but that he truly cares for the girls he's come to know and that he does care for Marlee.
There is also a rebel attack and, when caught in the confusion, America runs to the woods near the palace to hide, she spots two of the rebels carrying off books. One of them, a girl, sees America in the tree she is hiding in and rather than call out for other rebels, she bows to America and runs off. America, confused goes back to the palace only to be further confused later when she sees Maxon and Celeste in a rather, ahem, compromising position. America, hurt by this, begins to believe that her first love, Aspen is the only one for her. She begins to shut out Maxon.
America tries to leave but Maxon will not dismiss her from the competition. She is then forced to offer up a debate topic for the nation and, after reading the diary of one of the first Kings of Illéa, she has her idea: do away with the caste system. King Clarkson cuts off her presentation to the nation and is angry with her, trying to force Maxon to kick her out of the competition. Maxon refuses and, despite her coldness towards him, Maxon does not give up on her.  However, later, in the middle of another rebel attack we learn how deep Maxon's feelings run for America. After running and narrowly escaping the attack of the rebels and entering a safe room America sees that Maxon's back is bleeding, a result of the whipping at the hands of his father- punishment for his protecting and defending America.
After these moments with Maxon she still believes she is going to be eliminated from the Selection, feeling that she has damaged her chances with him, despite his obvious affection for her. She tells her maids to assist Kriss, to help her win the Selection after she's gone. However, Maxon tells her she is allowed to stay and, after she is threatened by the King, she returns to her room and begins plotting with her maids to win the Selection and Maxon's heart.