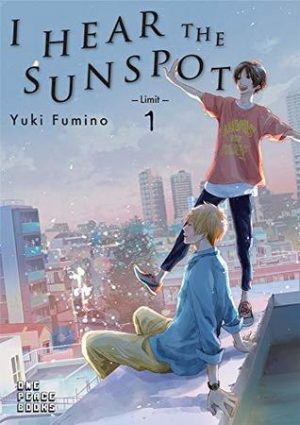 I Hear the Sunspot: Limit Volume 1
By:
Yuki Fumino
Translator:
Stephen Kohler
Release Date:
November 21 2018; (original Japanese) July 24, 2018
Publisher:
One Peace Books
Series:
I Hear the Sunspot #3
Rating:
I loved the original book in the I Hear the Sunspot series, so, of course, I read the third book as soon as I could get my hands on a copy. I Hear the Sunspot: Limit Volume 1 by Yuki Fumino and translated by Stephen Kohler is the continued story of Taichi and Kohei. Kohei is a university student with a hearing disability. Taichi has recently left college for the working world, finally figuring out what it is he wants to do. The pair continue to travel on their respective paths as they try to navigate the more than friendship, recently confessed love relationship they've build over the previous two books.
This volume explored some interesting things, and we learned more about Taichi's past. However, there were a few things I found frustrating with this volume.
Taichi and Kohei are very rarely in the same place. This is done purposefully. One of the volumes questions is how their relationship will change now that one is working full time and the other remains a full time student. However, one of the reasons I keep coming back is to see these characters relationship, their interactions, and watch them change and grow. Not having them in scenes together was frustrating, but understandable, to a point.
I do fear the series is beginning to head towards a few tropes I find I can't take in large doses. Look, Taichi's obliviousness is funny and somewhat adorable, but that doesn't forgo a lack of communication. An utter lack of communication is beginning to become quite bothersome. And, at one point, Kohei feels extremely out of character as the manga take a turn for a more trope-like bit of plot.
That said, I do quite like some of the questions posed by this volume. Taichi's growing up years are explored more in-depth, giving us a look at a past more troubled than he may be letting on. Kohei considers cochlear implants. New characters are introduced. Ryu is a deaf young man Kohei gets to know, and set up as a possible romantic rival. Taichi's coworkers and work life are explored much more than the second volume, posing questions of their own.
I will continue on with this series. Where is it going? Will Kohei and Taichi ever be able to move beyond a kiss? Read I Hear the Sunspot: Limit Volume 1 by Yuki Fumino to find out.