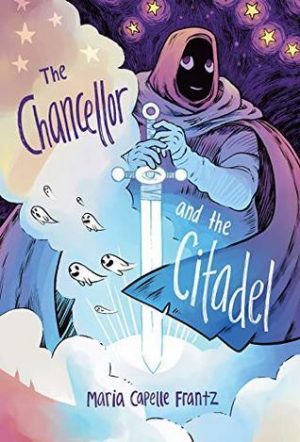 The Chancellor and the Citadel
By:
Maria Capelle Frantz
Illustrator:
Maria Capelle Frantz
Release Date:
January 29, 2019
Publisher:
Iron Circus Comics
Received From:
Publisher
(All reviews are our own, honest opinions.)
Rating:
The Chancellor and the Citadel is the first graphic novel by cartoonist Maria Capelle Frantz. The story centers on the Chancellor, a mysterious person with magical powers. They protect the citadel from the forces that lay beyond. When an angry mob forms outside, what can she do? Some say that she was the one who led the world to destruction in the first place. What does that mean for the one place of safety and hope left.
A larger world is hinted at, and we get snippets of information that build a much larger picture. There is no infodump, though, simply pieces of conversation that add to world building and potentially missable if you're reading fast. A great war happened in the past. The population is now merely a fraction of what it once was. The Chancellor keeps everyone safe in the city – safe from the humans that attack them, safe from the things lurking in the forest, and safe from one another.
Despite being a seemingly all powerful being, the Chancellor has their faults and insecurities. Hints of a darker past lurk around the edges. Or, if not dark, at least a past the Chancellor isn't wholly proud of. All they want is to bring peace and prosperity, but fate seems to have different plans.
This is what the story is about at heart. It is very much a tale of emotion, of how fear turns to anger and hate. It is a slow story with a lot of heart. Some very beautiful, heartfelt prose can be found through the pages. Wonderful friendships are found within this graphic novel, especially the relationship between Olive and the Chancellor.
The art in this graphic novel is lovely. There is a woodcut like quality to it which lends a rather unique twist. The forest is dense, claustrophobic, and vast. The city is smaller, but no less crowded. Houses are built up instead of out, and everyone seems somewhat on top of each other. The color pallet changes according to scene and emotion. The bright blues of magic in a darkened room, the happy purples and yellows of a warm room on a dark night were beautiful.
This is a world I wanted to linger in. I'd love to see more stories set in this world, and see more of the Chancellor. I really enjoyed The Chancellor and the Citadel by Maria Capelle Frantz and cannot wait to see what else she has in store for us.