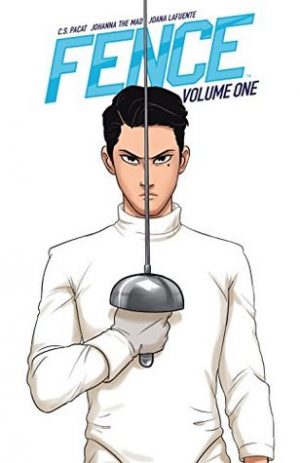 Fence, Vol. 1
By:
C.S. Pacat
Illustrator:
Johanna the Mad (illustrations); Joana LaFuente (colorist); Jim Campbell (lettering)
Release Date:
July 31, 2018
Publisher:
BOOM! Box
Series:
Fence #1
Rating:
Fence, Vol. 1 by C.S. Pacat, Johanna the Mad, Joana LaFuente, and Jim Campbell is a graphic novel for young adults. The first volume collects issues 1 through 4 into a full color collection.
Nicholas Cox, the illegitimate son of an Olympic fencer, seems to have his father's natural talent for the sport, but none of the high level professional training or equipment. After losing to the rising star Seiji Katayama, Nicholas moves into his dorm room at private school King's Row only to find the unbeatable, strange boy as his roommate. But retaining his scholarship and achieving his dreams, is reliant upon Nicholas making the team first.
The story centers on Nicholas as he tries to keep up with his more highly trained and better equipped schoolmates. Clashes and rivalries abound, as they are wont to do at any high school, creating a complicated mess of friendship, conflict, and romance.
The first volume begins at a competition just prior to Nicholas entering King's Row, establishing his place within the fencing community as well as those of his competitors. What follows is a slice of life style sports graphic novel that is more reminiscent of manga in its storytelling style and pacing than many of its Western brethren. We follow Nicholas through his day to day life, dodging the fencing club bullies, struggling to get along with his roommate, making friends, and trying to make the fencing team.
The first arc of the graphic novel doesn't conclude in volume one. Nicholas' journey to making the fencing team extends into volume two, which is available to read now. Instead, volume one takes its time building Nicholas's character and showing his strengths and weakness. Flashbacks depicting a difficult past are spread throughout the volume, keeping the pacing a decent clip. As the volume continues we understand Nicholas more, his desires, fears, and how both effect his fencing competitions. In a lot of ways, this is a graphic novel that spans straddles the line between sports and slice of life, and does so incredibly well. Training montages are not something you'll find here. Instead, we follow Nicholas' daily life as he tries to make the fencing team at his new school, meet new people, and attempts to get along amicably with his roommate.
A slower pace also means readers get to experience more interaction between other members of the fencing team. Characters who could otherwise be mere faces begin to develop personality and wants of their own, something I imagine will be expounded upon in future volumes. Many of the characters are LGBT+, something else which will most likely take more precedence as the series continues based on some of the character relationships in this volume.
The art is clean, and filled with light colors. Characters have very individual faces and body types, both of which are important considering the plain white fencing outfits characters wear a majority of the time.
Fence, Vol. 1 is written by C.S. Pacat with illustrations by Johanna the Mad, lettering by Jim Campbell, and coloring by Joana LaFuente. This graphic novel is perfect for fans of slower paced sports and contemporary stories and is a great bridge for manga lovers looking to get into western comics and graphic novels.