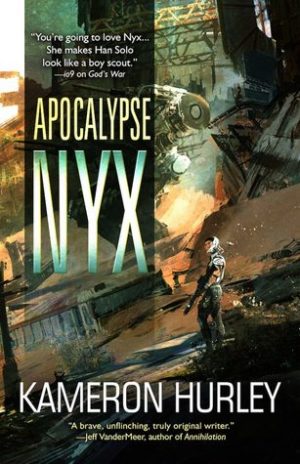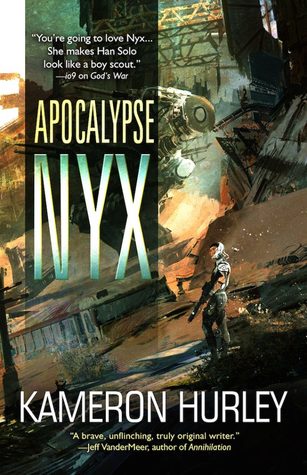 Apocalypse Nyx
By:
Kameron Hurley
Release Date:
July 17, 2018
Publisher:
Tachyon Publishing
Series:
Bel Dame Apocrypha
Received From:
Publisher
(All reviews are our own, honest opinions.)
Rating:
Set in the Bel Dame Apocrypha series, Apocalypse Nyx is a collection of five stories set at various points in time throughout the series. Author Kameron Hurley has previously released two of the included stories on her Patreon. Here, they are collected with three others as a part of a series of books about Nyx and her band of misfits.
Nyx was once a government assassin. Now, she's a bounty hunter with a team of misfits. The short stories included here are set between books within the Bel Dame Apocrypha series. Each portrays some kind of a mercenary job Nyx becomes involved with. Some are ones she's signed up for, others don't prove to be quite so straightforward.
The five stories included are: "The Body Project", "The Heart Is Eaten Last", "Soulbound", "Crossroads at Jannah", and "Paint It Red". The first two are much longer than the last three, bordering more on novellas or novelettes than short stories. As with all collections of short fiction, some stand out more than others. However, each provides an exciting story in the lives of Nyx and her mercenary brethren, featuring some characters more than others depending on the story at hand.
Science fiction and fantasy blur together in a world with insect based technology, shapeshifters, rejuvenating bioengineering, and hedge witches. The world is imaginatively built and wonderfully detailed. The nation they live in is a matriarchically one, perpetually at war with a neighboring country. Racism is at play. Religious sects search for the organ which houses the human soul. While the world is clearly well thought out and very immersive, it is one which is perhaps best realized in the series proper; newcomers to the Bel Dame Apocrypha series will have little reference point for the magic, technology, politics, and religions at play within the stories.
This particular volume is more focused on exciting plot than any sort of character development. This is born out of necessity; no deep character development can rightly be made in short stories set in between the major books of a series. Nyx herself isn't a very sympathetic main character. She's a hard, sometimes brutal woman. Life hasn't been a simple thing for her. Booze and sex are used sometimes as blinders to mask the pain and effects of her past. Yet, she is good at her job, and, at times, behaves with uncharacteristically empathetic behavior, no matter how brief that might be.
Readers of the Bel Dame Apocrypha series will find a lot to enjoy here. Apocalypse Nyx by Kameron Hurley is a great collection of short stories and good companion to the other books within the series.