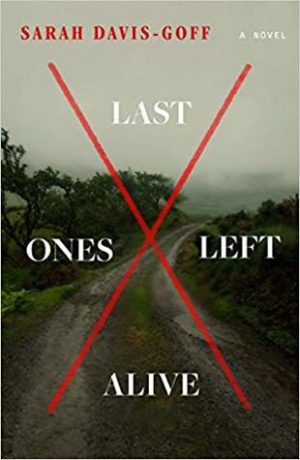 Last Ones Left Alive
By:
Sarah Davis-Goff
Release Date:
August 27, 2019
Publisher:
Flatiron Books
Received From:
Publisher
(All reviews are our own, honest opinions.)
Rating:
Debut author Sarah Davis-Goff brings us a standalone novel titled Last Ones Left Alive, a unique take on what happens when a sheltered young woman has to suddenly face the post-apocalypse alone. This novel is set in a post-apocalyptic Ireland, a place filled with zombie-like creatures called skrake. Orpen's early life was sheltered, having been raised by her mother and Maeve on an uninfested island off the Irish coast. But now her mother's gone, and Maeve is gravely ill. Determined, angry, and searching for her identity in the remnants of the world, Orpen takes Maeve to Ireland on a journey to find a rumored city and the banshees—the all-women fighting force that's fought the skrake for generations.
A first person point of view puts us in Orpen's eyes, showing a ruined world that is new and strange to both of us. Orpen's childhood was idyllic as one could be after the fall of modern civilization. But time and skrake have taken her mother and Maeve, and, finally, Orpen must brave the world alone.
But where Orpen doesn't quite understand the nuances of the warnings her mother gave regarding other people, the wide world beyond their tiny island, and how life has changed, the reader does. We can clearly see the dystopian elements of the city Orpen is never supposed to go to, and what dangers other unknown humans might pose. Warnings are all too clear. Orpen, however, does not, leading to utter terror and hatred of other people combined with a childlike idealization of a city filled with other people.
Orpen's journey is one of finding her place in a world that doesn't have places for anyone any longer. Her craving for human company and interaction is tempered by a fear of other people. Her desire to save the people she loves is countered by the limits of medicine and the realities of a post-apocalyptic world. Orpen is a swirl of contradictions, some of which stand out very starkly. This makes her more human, more relatable, while, at the same time, making readers want to shake her by the shoulders during moments of more naïve mistakes. In a world where people are scarce, Orpen feels the must human of all.
Chapters switch between the present, where Orpen is travelling across Ireland, and past events that lead up to this. Both sections are enjoyable, with chapters featuring past events being rather important to current events. However, the non-linear formatting can sometimes cut the tension and suspense short instead of carrying through to the next chapter.
With a plethora of books featuring the hardened and battle scarred facing a future world that lays in ruins, Last Ones Left Alive by Sarah Davis-Goff is a fascinating look from the point of view of someone with very little real-world experience with skrake and the breakdown of modern society. Fans of post-apocalyptic books or zombie novels will definitely want to pick this one up.