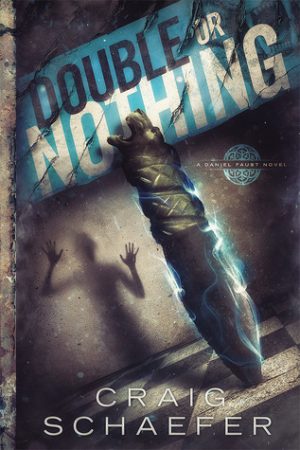 Double or Nothing (Daniel Faust #7)
By:
Craig Schaefer
Website:
http://craig-schaefer-v2.squarespace.com/
Release Date:
June 27th, 2017
Publisher:
47 North
Series:
Daniel Faust Series
Rating:
Okay, book number seven, I'm back and ready to brag about you.
This 7th installment of the series may be one of the best books in the entire series, and yes I know I've rated them all four stars and above but, trust me here, this one is amazing.
As always Faust is in deep with attackers coming from all angles. The Enemy is working on destroying the world, there's drugs flooding the streets of Las Vegas and Caitlin is dealing with some issues in the courts of hell. We also get to see a lot of crossover characters that connect the line between Faust and Harmony Black and for that, as someone who loves tie-ins, made this book even better for me. Also, the humor that Schaefer so effortlessly fits into the series (or what appear effortless but I'm sure was damn hard to do) is still present and still making me laugh out loud while reading. Anyone who can give me action, danger, humor and plot twists is always going to be one of my favorites and this book showcases all of it.
Also, we begin to see more of the complications and issues with Daniel and Cait's relationship which, while I love them, made me extremely uncomfortable. Anytime it came up I had to change how I was sitting while reading because I hate to think it isn't real love. Maybe it is, maybe it isn't and no, this doesn't count as a spoiler for everyone who thinks it is because, honestly, we've been toeing this line of thought for so long that you should have seen it coming. I saw it coming, doesn't mean I was prepared for it.
If you're into the series at all by now you should know that I can't give anything away in the reviews but you are most definitely aware that if any of this sounds interesting you and you haven't ready any of it yet, go back to book number one. Trust me, jumping in to any series, but specifically a series like this one without the ground work isn't going to be as big of a payoff as you may like it to be. The action continues to keep pace with the previous books and we see Daniel bouncing around the nation to handle his business and while each stop is relatively a short stay it was interesting ot see Daniel Faust outside of Las Vegas (and not in jail).
Now, this book is heavy with a lot of plot points so I'll go ahead and keep this simple. Faust is still toeing the line of villainy to protect those he loves and still dropping truth bombs that serve as pretty good standalone quotes to make people wonder what forces Daniel to speak these words.
"Doesn't matter," I told her. "Anything worth having is worth fighting for. And the more you want it, the more you have to fight. That's what makes us human."
Obviously I'm a fan of this series so, really, what's stopping you from being one too?