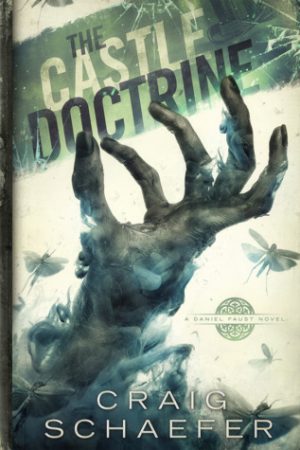 The Castle Doctrine (Daniel Faust #6)
By:
Craig Schaefer
Website:
http://craig-schaefer-v2.squarespace.com/
Release Date:
September 26th, 2017
Publisher:
Deminode Books
Series:
Daniel Faust Series
Rating:
Oh Daniel Faust. It's been over a year since I read this series and I can't get it out of my head. I've even gone back and listened to some of the audio books just to prolong my love of this series. Also, with more books promised by Craig Schaefer I'm excited to get more reviews out before the new books are released. So, with that, let's dive into why, at book number six, this series is still captivating.
With the urban fantasy genre it is important to make the setting more than just a city and Craig Schaefer does just that in this series. I'm not sure whether I've mentioned it before but Schaefer does an amazing job of treating the city of Las Vegas like a character in this series.
So, when we start this book with Chicago mobsters turning Vegas upside down, well, even someone like me who has never been to Las Vegas is suddenly super protective of the place and the people in it while reading this series.
Another thing Schaefer accomplishes in this series is giving us an anti-hero like Faust and making us cheer for him, wholeheartedly and to pick his side of the war to stand on, no matter who he is squaring up with. In this piece of the series we see a certain necromancer back in town and, let's face it, no one wants a necromancer in their city. Especially one trying to kill them and their loved ones. So, Faust has to come up with a way to save the city, protect his family and somehow manage to stay alive.
With each book I'm comforted by the fact that as I read Daniel is still alive later on (hello books #7 & #8 respectively) but I do worry, as Schaefer has a book #9 entitled The Locust Job coming out on January 1st (you know what I'll be dong that day) I am starting to get that queasy caught up feeling that series readers experience. Seeing as how I'll be chronologically caught up with the series at that point (and thus waiting for Craig Schaefer to write more in this series, as well as his other series books) I am utterly petrified that this will be the book that convinces me Daniel won't make it to book ten. But, we'll have to see how I handle all of that in a couple weeks.
Really, you should know by now that I'm going to tell you that if you've read this far into the series you should keep going but, if you want an extra incentive to pick this one up and keep going remember this; in series such as the Daniel Faust series there are several story arcs. As one of them is put to rest, another ball of chaos begins.
And, as always, I'll leave you with a quote to remind you all as to why this series is great. There's action, love interest, humor, crazy plot twists and then, as with this quote, blinding truths you cannot avoid, even if they are spoken by a fictional character.
You know how this game gets played: all you get in life is what you're willing to fight for.