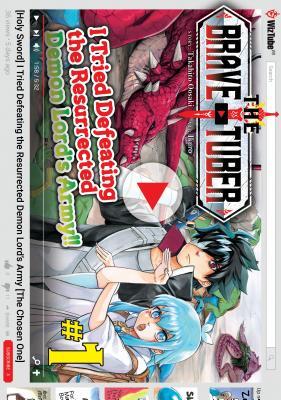 Brave-Tuber, Vol. 1
By:
Takahito Oosaki (Illustrator); James Gaubatz (Lettering)
Illustrator:
Ikuro
Translator:
Thomas Zimmerman (Translation); Dawn Davis (Adaptation)
Release Date:
September 10, 2019
Publisher:
Seven Seas
Received From:
Publisher
(All reviews are our own, honest opinions.)
Rating:
In a world replete with isekai, this manga is much more of a typical fantasy if that fantasy was thrown on its head and mixed in with a little YouTube and vlogging culture. If that sounds like a mix you've never heard of before, you might be right. The Brave-Tuber, Vol. 1 is written by Takahito Oosaki and illustrated by Ikuro, and is set to become an ONA in late December of 2019.
Zane is an adventurer able to wield the holy sword Kuku Regil, determined to take down the Demon King. While the world may look like a typical fantasy setting at first glance, this notion is quickly thrown out the window. The architecture may have a medieval aesthetic, but technology isn't unheard of here. The internet, phones, tablets, and computers all exist, running on magic instead of electricity. This clash of modern tech, magic, and the war between demons and humans has lead to interesting quirks all Adventurers follow.
WizTube is the magical equivalent of YouTube, the place where any good adventurer uploads their vlogs of fighting off demonic foes in flashy style. The more fantastic the fight, the more subscribers the adventurers get, leading to fame and, you guessed it, cash. What ensues is a combination of funny situations involving typical fantasy tropes, the familiar pitfalls of relying YouTube and social media, and what it means when depending on an audience.
Each chapter involves a different element of familiar YouTube video content or social media content, most notably Twitter. Zane goes through poorly received battle vlogs and armor reviews gone wrong. The Demon King, a Witter follower of Zane and the spirit of his holy sword, likes to launch attacks after photos of our heroes are uploaded showing notable landmarks. This marriage of a typical fantasy world and modern technology leads to no shortage of funny circumstances, and was quite an entertaining read.
Yet, buried among the humor and sometimes absurd situations is commentary on what relying and focusing on audience engagement on platforms such as YouTube and social media can do. Kuku wants to do everything they can to build up their audience and produce better, more engaging content. Zane doesn't really care about any of that, perfectly happy to use the overpowered but nonflashy moves to take down his enemies and work part-time as a waiter to supplement his income. Situations don't always come out in Kuku's or Zane's favor. But where Zane continues to focus on defeating his enemies, Kuku continues to focus on their WizTube channel, Holy Sword Channel. The pitfalls of doing so are all too clear.
The only thing which could be seen as a downfall to the series is leaning too heavily on social media and YouTube tropes. Oosaki and Ikuro did a wonderful job integrating both into this volume. But it might be a bit difficult to continue leaning on these long-term without either running out of relevant ideas to play off of or having the humor grow stale. Still, I am very interested to see what direction this series is going, and do recommend giving it a read.
If you are looking for a humorous take on a fantasy world brought into a more modern setting, I would highly recommend this manga. The Brave-Tuber, Vol. 1 by Takahito Oosaki and Ikuro is a humorous fantasy manga definitely worth the read.