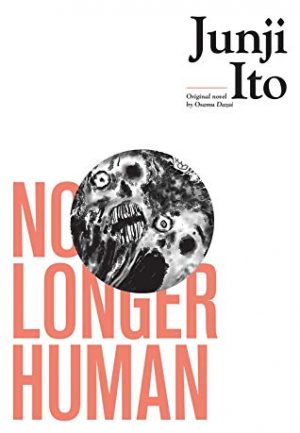 No Longer Human
By:
Junji Ito; Osamu Dazai (original novel)
Illustrator:
Junji Ito
Translator:
Jocelyn Allen
Release Date:
December 17, 2019
Publisher:
VIZ Media LLC
Received From:
Publisher
(All reviews are our own, honest opinions.)
Rating:
The latest manga from Junji Ito is somewhat different from his usual fare. No Longer Human by Junji Ito is Ito's take on Osamu Dazai's novel of the same title. A character study more than true horror, this story is filled more with commentary on the human psyche than the monsters and ghosts that frequent Ito's pages.
The story centers around a character named Yozo Oba, following him from childhood throughout his life. A man of many anxieties, terrible things always happen to him, most often as a consequence of his own misdeeds and poor decision making. He is a man of many faces, an expert at knowing what face others (probably) want to see, but abysmal at being his own person and allowing himself to find true happiness.
Dazai's tale is one that is semi-autobiographical, making it all the more horrifying. Having the line between fiction and reality blurred in this work makes the tale all the more uncomfortable, and not in the usual ways horror plays on the mind. No Longer Human is the tale of a rather despicable person. This isn't the sort of main character a reader roots for, but instead someone whose comeuppance you wish to see occur.
Ito's are style does add to the story. There isn't any sugar coating here. The psychosis of a broken mind is played out in true horror. The twisting faces and signature style of Ito's art adds to the elements of wrongness, grotesqueness, and terror of Oba and those he surrounds himself with. It is quite interesting to see how a horror writer interprets the genre of 'terrible people doing terrible things.' The line between character study, autobiography, and horror is terrifyingly thin.
Yet, the novel Ito has chosen to depict as manga isn't quite his normal fare in a genre sense. Some readers aren't going to have their attention held for the entirety of the 600+ page manga. This is a very slice of life styled story in a genre that touches on but isn't quite horror, after all. Reading about such a dislikable individual for so many hundreds of pages can grow tedious, no matter how wonderful the art may be. If you aren't a fan of character studies, slice of life, or 'terrible people doing terrible things' this might be a manga you want to borrow from the library first to see if you enjoy it.
While I see more people purchasing this book to complete their Junji Ito collection than for the subject matter, there are some interesting points here. No Longer Human by Junji Ito bears an interesting use of artistic horror in telling the story of a truly despicable person – both in the horrors within his mind and those he comes to perpetrate himself.