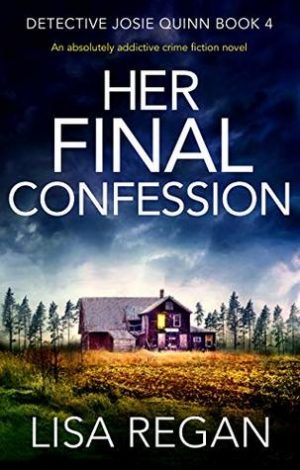 Her Final Confession(Detective Josie Quinn #4)
By:
Lisa Regan
Website:
https://lisaregan.com/
Release Date:
November 28th, 2018
Publisher:
Bookouture
Series:
Detective Josie Quinn
Rating:
Josie, you should have known you weren't the only one with crazy secrets to hide. Although, I agree, I would have never thought Gretchen's secret was this insane. I just thought Gretchen was one of those private, quiet characters. I'm sure most readers thought the same.
Well, we were all wrong.
I will say one thing I was extremely happy about in this installment of the series was that, while some things are still extremely complicated, bordering on unbelievable, this book felt more grounded to me.
Regan gives us more of a background on Gretchen, and we also get more glimpses into Josie's life as she navigates newly found relationships, family dynamics and the relationships of those on her team.
I'm still learning to get along with Josie Quinn but her determination to defend a member of her team made me continue to at least like her. With each book she is growing on me and I think that says a lot about Regan's talent as I absolutely did not like her one bit in book one.
Also, shout out for allowing Josie to find some measure of happiness with her growing relationships whether they are familial, friendly or romantic in nature. Josie, while still infuriating at times, is more accessible as someone with a network of people who care for her and support her.
The continued excellence in writing and plot, character growth and suspense right through the last page is what makes this book another great addition to the series.