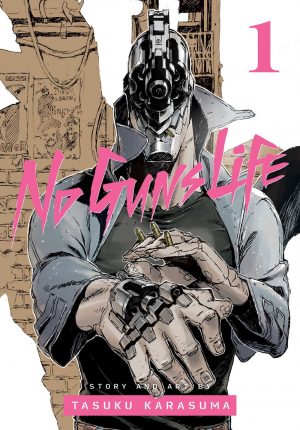 No Guns Life, Vol. 1
By:
Tasuku Karasuma
Illustrator:
Tasuku Karasuma (illustrations); Evan Walding (touch-up art & lettering)
Translator:
Joe Yamazaki
Release Date:
September 17, 2019
Publisher:
VIZ Media LLC
Series:
No Guns Life #1
Received From:
Publisher
(All reviews are our own, honest opinions.)
Rating:
No Guns Life, Vol. 1 by Tasuku Karasuma is a seinen science fiction manga which has an anime adaptation airing this season, Fall 2019. In a future world, some humans have become the extended, people augmented with mechanical body parts which greatly increase their physical abilities. Juzo Inui is one of the extended, with a gun in place of a head. He is a Resolver, solving conflicts between the extended and regular humans.