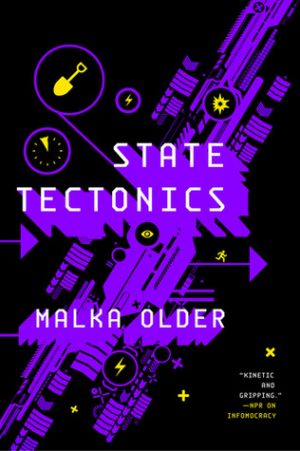 State Tectonics
By:
Malka Older
Release Date:
September 11, 2018
Publisher:
Tor.com
Series:
The Centennal Cycle
Rating:
I have been reading Malka Older's Centenal Cycle series since it's debut in 2016. It is a series which proved oddly timely, speaking directly to events which, as of its writing, hadn't yet come to pass – namely, the events surrounding the 2016 US presidential election. Now, the series has come to a close with the third book in the series, State Tectonics. Like the two before it, State Tectonics is an oddly timely, fascinating look at politics, democracy, and the availability and spread of data and other information. Set on a future earth with a world government and micro-democracies, this is a book that shouldn't be missed.
If you want to see our opinions on the first two novels in The Centenal Cycle series, or if you'd like to catch up you can find our reviews for Infomocracy (Book 1) and Null States (Book 2).
Like the first novel of the series, the story opens right before the next election for supermajority. Mishima, Ken, Maryam, and Roz are all working in their various jobs at Information and in government, and we get to see what each is focused on with this election looming on the horizon. There is an air of tenseness in the air, one the reader can feel before the characters themselves in some cases, with memories of the chaotic previous election and ensuing law changes.
What begin as separate plots slowly weave together, forming a much larger tapestry. Each smaller, separate plot begins to grow in size, scope, or scale. Slowly, others are brought in and problems escalate. The small, individual investigations and current jobs of characters we've read about before are all interesting enough to be the sole focus of the novel. Combining them into a grandiose tale of subterfuge before an election feels very natural
That said, if you find it difficult to follow a book with many characters this book and the first half in particular might make for a slower read for you. However, the story is brought together by a master hand, with seemingly irrelevant plot threads becoming much more important than they first seemed.
The book travels a careful path. It has at once a certain amount of cynicism and criticism, but it isn't simply left there. Hope and recognition that things can and must evolve for the betterment of all are also there. With the book's large cast we can see the events and questions from a myriad of viewpoints. From these, we can draw our own conclusions.
Because this isn't simply a near future science fiction novel. It is a novel that speaks directly to the themes and events currently ongoing in politics across the world. It is a warning, perhaps, but one that ends in optimism and hope.
Very little is left to the imagination in this culminating volume of the series. Loose ends are wrapped up quite nicely. Side plots have all be finished. Character's interpersonal relationships and love interests are also left in a very comfortable place.
I am quite pleased with the ending note of the Centenal Cycle. State Tectonics was a fantastic novel from Malka Older, and while I could read countless more novels set in this universe, I am contented with what we have. If you haven't yet read State Tectonics, I urge you to pick up a copy. If you haven't yet begun the series now is a perfect time to binge all three.