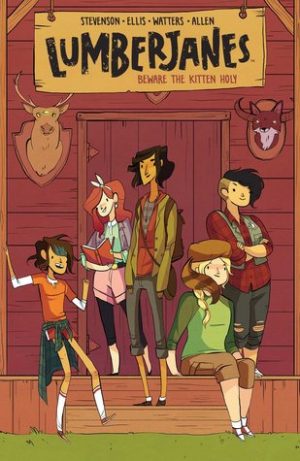 Lumberjanes Vol. 1
By:
Noelle Stevenson, Grace Ellis, Faith Hicks, Brooke A. Allen
Release Date:
April 7, 2015
Publisher:
BOOM! Box
Series:
Lumberjanes
Award:
Will Eisner Comic Industry Awards for Best New Series & Best Publication for Teens (ages 13-17)(2015); Goodreads Choice Award Nominee for Graphic Novels & Comics (2015)
Rating:
I'd recently heard some very good things about Lumberjanes by Noelle Stevenson, Grace Ellis, Faith Hicks, and Brooke Allen. When I found copies available in my local library I immediately delved in. This is a fun fantasy/mystery series that follows a group of girls at a Lumberjane sleepaway camp. The forest they're camping in holds secrets, though, and seems to be filled with magical creatures. The story follows these girls as they go on various adventures and try to solve the mysteries of the woods.