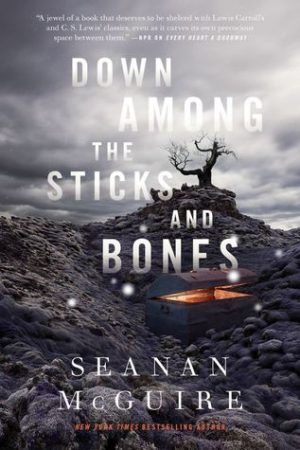 Down Among the Sticks and Bones
By:
Seanan McGuire
Website:
https://www.goodreads.com/book/show/31450908-down-among-the-sticks-and-bones
Release Date:
June 13, 2017
Publisher:
Tor.com
Series:
Wayward Children #2
Rating:
I have always loved portal fantasies, those books where a group of children fall through the back of a wardrobe and enter a world of fantasy and magic. Last year, Every Heart A Doorway piqued my interest based on its new spin on this familiar scenario – what happens when someone comes back to our world? Down Among the Sticks and Bones by Seanan McGuire is dark, stunningly written, and utterly beautiful.
Down Among the Sticks and Bones has some of the loveliest prose I have read in quite some time. It's the sort of writing that normally makes my father look fondly at the book in hand and say 'people don't write like this anymore'. Reading McGuire's work is a real treat. I devoured this book; it was a one sitting read.