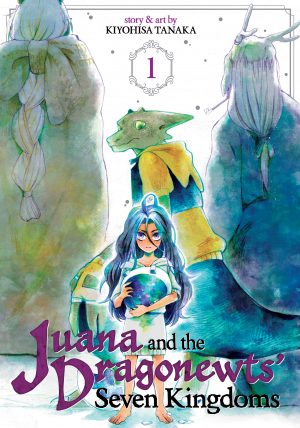 Juana and the Dragonewts' Seven Kingdoms Vol. 1
By:
Kiyohisa Tanaka
Translator:
Adrienne Beck
Release Date:
(English) January 16, 2018; (original)
Publisher:
Seven Seas
Series:
Juana and the Dragonewts' Seven Kingdoms
Received From:
Publisher
(All reviews are our own, honest opinions.)
Rating:
I'm always looking for a new fantasy story, a genre which has been just a little bit hard to find these last few years as the isekai genre has taken over just about everything. Juana and the Dragonewts' Seven Kingdoms by Kiyohisa Tanaka is a beautiful, fun fantasy with a lot of heart. I've heard it related to the Ancient Magus' Bride, and while I'm not completely up to date with either the manga releases or the anime, I can see why. This is a fantasy story, one where a human girl, maybe the last one, finds herself amid a realm of dragon like creatures. But instead of being from the point of view of a human suddenly plunged into a fantastical world, we are given the opposite – a fantastical creature living in a fantastical world finds a human without fully knowing what it is or what to do with it.