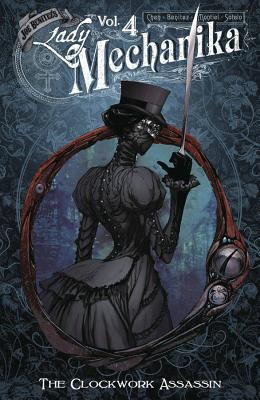 Lady Mechanika Vol 4: The Clockwork Assassin
By:
Joe Benitez; M.M. Chen
Illustrator:
Joe Benitez (pencils); Martin Montiel (pencils); Beth Sotelo (colors); Michael Heisler (letters)
Release Date:
June 26, 2018
Publisher:
Benitez Productions
Series:
Lady Mechanika #4
Received From:
Publisher
(All reviews are our own, honest opinions.)
Rating:
You know what? There aren't enough steampunk stories. Doubly so for graphic novels. I mean who doesn't love cool steam based tech and gorgeous Victorian outfits? Well, thankfully there's the Lady Mechanika series. Lady Mechanika Vol 4 by Joe Benitez, M.M. Chen, Beth Sotelo, Michael Heisler, and Martin Montiel is a steampunk graphic novel series with detectives, fabulous lady investigators, and some scientists closer to the evil genius side of things than is comfortable.