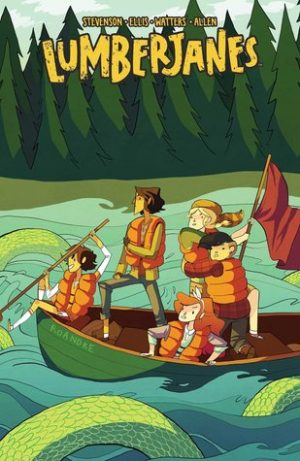 Lumberjanes Vol 3: A Terrible Plan
By:
Noelle Stevenson; Shannon Watters; Faith Erin Hicks
Illustrator:
Carolyn Nowak (Illustrator); Maarta Laiho (Colorist); Aubrey Aiese (Letterer); Brittney Williams (Illustrator); Aimee Fleck (Illustrator); Faith Erin Hicks (Illustrator); Rebecca Tobin (Illustrator); Felicia Choo (Illustrator); T. Zysk (Illustrator)
Release Date:
April 5, 2016
Publisher:
BOOM! Box
Series:
Lumberjanes
Award:
Goodreads Choice Award Nominee for Graphic Novels & Comics (2016)
Rating:
Lumberjanes never fails to put a smile on my face, and my local library never fails to have another volume to borrow. Lumberjanes Vol. 3 follows our favorite cabin of girls at Lumberjanes camp through several short stories. Ghost stories are told. Riley is her usual fun, ridiculous self. And Mal and Molly go on a super cute picnic date.