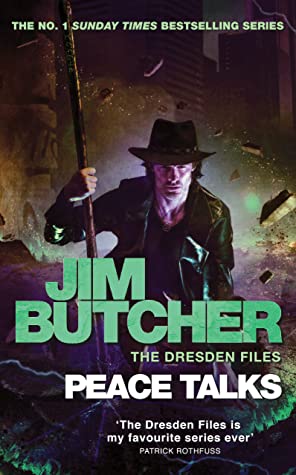 Peace Talks (The Dresden Files #16)
By:
Jim Butcher
Website:
https://www.jim-butcher.com/
Release Date:
July 14th, 2020
Publisher:
Penguin Random House
Series:
The Dresden Files
Rating:
It has been a long time coming for book number sixteen in the Dresden Files. Book fifteen, Skin Game, came out in 2014. Yes, 2014 so six years ago now. I will say I am luckier than most fans in that I came into my Dresden files obsession in the last few years so I read Skin Game in 2017. Still, it's been three years and I admit I had to go back and re-read the last couple books to remember where we'd left off.
Thank you to Penguin Random House and Berkley for the ARC. It was the highlight of my quarantine.
As we are sixteen books in this series if you haven't read the others stop reading the review now, go back and start with book one Storm Front. This is not a series to read out of order. If you've read all the other books and want to know what I think about Peace Talks please read on.