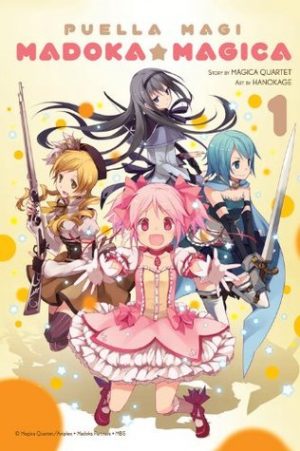 Puella Magi Madoka Magica Volume 1
By:
Magica Quartet
Illustrator:
Hanokage
Translator:
William Flannigan
Release Date:
(Original Japanese) February 12, 2011; (English Translation) May 29, 2012
Publisher:
Yen Press
Series:
Puella Magi Madoka Magica
Rating:
I think its safe to say that Puella Magi Madoka Magica is an international phenomenon. The story is written by Magica Quartet with the art done by Hanokage, and I cannot recommend this series enough.
A new student transfers into first year high school student Madoka's class. The girl is familiar, a person from something Madoka knows must have been a dream. It being anything else was impossible. Cats don't offer magical powers in exchange for your deepest wish. Yet here this girl, Homura, is and she's fighting a rather familiar looking cat. The offer is again given. If she speaks her deepest wish, she will be granted both magical powers and her wish. But it isn't all fun and games. The world of magic is a world of high danger and seemingly little personal reward. The lost are not mourned here, and evil stalks the innocent.