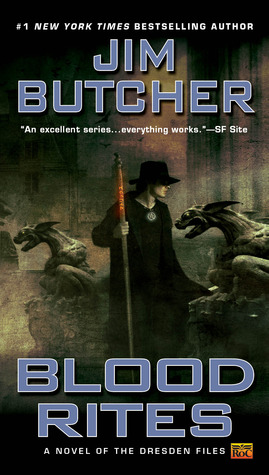 Blood Rites (The Dresden Files #6)
By:
Jim Butcher
Website:
http://www.jim-butcher.com/
Release Date:
August 3rd, 2004
Publisher:
Roc Books
Series:
The Dresden Files
Rating:
When White Court Vampire Thomas Raith joins Harry on an errand (well, a  rescue mission) to save stolen puppies (yes, stolen puppies) Harry thinks his night is interesting enough. Add in gorrilla demons and it's another thing entirely. Things only get weirder when one of the puppies stows away in Harry's car. He's amused but also alarmed as the dog, while a great security system which alerts him to an attack by the Black Court, Harry really doesn't know what to do with the puppy. Let's just say Mister doesn't approve of the new house guest. And this, like always, is just the start to Harry's next insane adventure. And boy is this book a doozy.